Blog
Posted by Marchant's Web Team on
MacGregor SK3048 Multisport Indoor Scoreboard w/Remote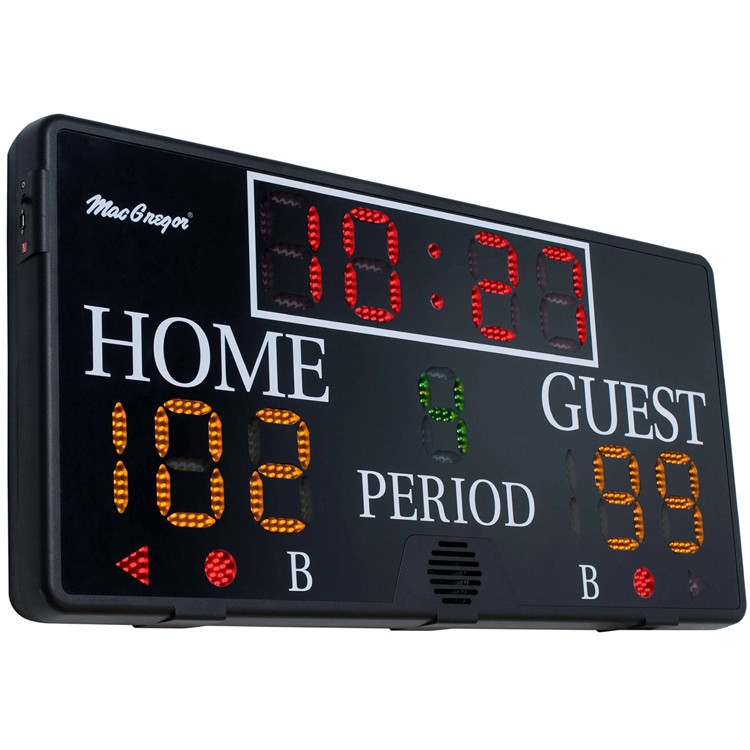 If you're looking for an ideal indoor scoreboard that can be used for both basketball and volleyball, then look no further! The MacGregor SK3048 scoreboard measures in at 4 feet wide by 2 feet tall and has bright 6" LED numerals, making it easy to read. It is the perfect dimension for your average court, and with some minor tweaks it can also be used for wrestling.
Need to keep track of how long a practice or a warm up is? Use this scoreboard as a clock or a countdown timer. You can then switch it over to keep track of the scores, periods, bonuses, and possession. It also has a last minute counter which provides a thrilling game experience for both athletes and spectators.
Some key features of the MacGregor SK3048 are that it comes with a 300 foot range rechargeable wireless remote, making it accessible from a distance. The wireless remote can be set to 12 frequencies to prevent interference. As well, it comes with a 100 foot power cord to obtain power for the scoreboard from a distant power supply.
While the MacGregor SK3048 gives excellent functionality, a portable stand or wall mount is necessary to keep the device in place or transport it around the stadium. This stand has to be bought separately for $247.95.

MacGregor SK2229R Indoor Tabletop Scoreboard & Timer

Just like its big brother MacGregor SK3048, MacGregor SK2229R is an indoor scoreboard but smaller in size. MacGregor incorporates a 4.25 inch LED panel for the score and 4.75 inch panel for the timer. The overall dimensions of the scoreboard measures to 16"x24"x10" and weighs in at 13 lbs.
MacGregor SK2229R indicates time, scores, digital periods, bonus, team fouls and possession. It can also function as a timer, stopwatch, metronome or an alarm during training sessions. This multi-sport scoreboard can be used for sports such as Volleyball, Basketball and Wrestling.
The 100 foot range remote gives officials to control the scoreboard from a distance. Four different frequency settings in the remote ensures less interference from others. Unlike the larger MacGregor SK3048, the SK2229R is able to stand alone on a table. If you dislike mounting items onto the wall, then this is the scoreboard for you. However if you change your mind, you can also use it with a stand, which is sold separately. This is an ideal table top scoreboard, but this can also be used with a stand which is sold separately.
If you're looking for a scoreboard that has the functionalities of the MacGregor SK3048 without breaking the bank, then this is the ideal scoreboard for you.
Gametime Portable Electronic Scoreboard
Unlike the MacGregor Scoreboards mentioned above, Gametime is an outdoor scoreboard with an audio player. The most interesting feature of this scoreboard is that it can be linked to an iPhone application to be remotely accessed through Wi-Fi within a 50 meter range.
Gametime comes with a rechargeable Li-ion battery powered by an AC adapter which gives up to 4 hours of battery life. The scoreboard is also weather resistance and could be used both indoors and outdoors. A 20W audio system provides good audio quality and also allows you to speak to the crowd through a microphone using the iOS App. You could be the official game announcer!
The unit can be easily mounted on a camera tripod or a back panel wall mount. The scoreboard also comes with a built-in handle for easy transportation. However, an extra shoulder strap could also be obtained optionally.
If you are looking for a scoreboard which has inbuilt audio functionality which could used for training purposes and to guide the players, Gametime Scoreboard would be your best bet.

Portable Manual Scoreboard
If all you need is a scoreboard that can show scores of the home and guest teams, a portable manual scoreboard would do the trick. SKTT Manual scoreboard is a 12" x 24" heavy duty scoreboard with large 7" numbers and scores counting to 99.


This manual scoreboard gives larger viewing scores to the spectators and is ideal for practices, games, and matches. It can be used for basketball, volleyball, tennis, or pretty much any game involving two teams.

XTC Gear No Limits Interval Timer
XTCis the only Canadian made scoreboard & timer amongst the lot. It can function as a simple timer, minute counter or a scoreboard. The multisport scoreboard timer can be controlled using Android & iOS App via bluetooth up to a distance of 100 ft. or could be operated using the IR remote included in the package.
Bright Green and Red 4" LED light provides good view from a distance. With dimensions of 22.5" by length and 6.25" by height, XTC is a bulky device but comes with wall mountable capabilities.
If you are looking for a flexible option for your team, where you could train them and take records of the scores on practice games, XTC is what you should go for.